Communicative Competence with AAC
Communicative competence is "the ability to communicate functionally in the natural environment and to adequately meet daily communication needs." (Light, 1989). All students enrolled at The Bridge School have severe speech and physical impairments. This means that they are unable to use natural speech to meet their daily communication needs across natural environments with a full range of communication partners such as family members, peers, teachers, neighbors, and others in their larger communities. In order to achieve communicative competence, it is necessary for our students to have access to, use, and learn with augmentative and alternative communication (AAC) techniques, strategies and devices.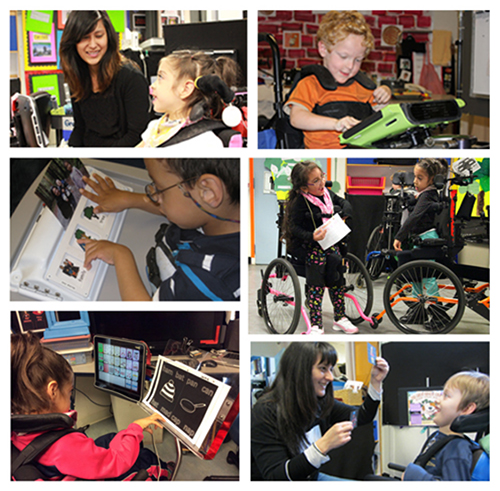 AAC incorporates each student's full communication abilities including gestures, communication boards and books, and speech generating devices. Some students' natural speech may be difficult to understand and use AAC systems as a supplement to their vocalizations. Our instruction with AAC is provided within the context of ongoing academic and social activities across appropriate grade-level subject areas. The use of AAC systems allows our students to communicate for a variety of purposes and to gain and demonstrate knowledge across the curriculum. A few examples include:
Obtaining or rejecting something, or asking for more or less of something.
Regulating social interactions, such as expressing emotions or talking with friends.
Sharing information and ideas with others.
Telling or writing about something that happened or will happen.
Based on each student's unique communication abilities and needs, instruction with AAC is individually designed to systematically build and support skills in operational, strategic, social and linguistic competence across all curricular areas, communication partners, and environments. Importantly, the focus of intervention with AAC includes working with a range of familiar and unfamiliar communication partners to learn effective interaction strategies. As our students improve their proficiency with AAC, they experience increased access, participation, and achievement across all curricular and life domains.